Mergers have been a hot topic in the credit union industry for some time. Merger activity has unmistakably increased over the past year, and executives predict that this trend will only continue in the years to come. Many are voicing concerns about consolidation, believing the mergers to be a sign of deterioration in the industry.
However, we have a very different point of view on the subject, and we believe it can help unite our industry on the benefits that strategic partnerships can foster.
Our organizations – Canvas Credit Union and Western Rockies Federal Credit Union – celebrate the official launch of our partnership after membership approval at the end of the year. In the case of our partnership, our two organizations are very different in size and markets, but while this is true, it is only part of the story. The merger of a larger credit union with a smaller credit union tends to attract strong criticism in the industry, with the smaller credit union seen as a victim of a consolidation that could have been avoided with stronger leadership or better business decisions.
We just don't agree. We see firsthand, day in and day out, how hard credit unions work to serve their members and their communities. It is also undeniable that current market forces often pose greater challenges for smaller industry credit unions with fewer resources. We don't think size should be a barrier to credit unions having the opportunity to make their dreams come true. The goal is to grow our family of credit unions, not just to survive.
By sharing our experiences throughout this process and the lessons we have learned along the way, we hope that we can help serve as an example to our fellow industry leaders on the opportunities ahead.
We see three main benefits of strategic partnerships:
Expand access to key financial services. High overhead costs – technology, compliance needs, and innovative efforts to meet consumer expectations – are a costly reality in today's credit union landscape. By uniting the models, resources and talents of credit unions, members can see greater value and gain access to the latest financial products and services.
Amplify and advance credit union teams. Partnerships can give credit union team members better opportunities to grow in their careers. It's rare to find credit union workers who are not dedicated to their members and passionate about cooperative finance – they chose the industry for a reason, after all. Strategic relationships can provide additional training and development resources to help employees achieve their personal and professional goals, and even new market opportunities for team members. By investing in our talent, the industry as a whole will benefit.
Bring more support, value and community investment to local communities. Many smaller credit unions have struggled – especially over the past decade – to invest in their communities as deeply as they would like. Another benefit of aligning resources with credit unions that prioritize similar causes is the ability to reinvest in their communities. By asserting themselves as leaders in the communities they serve, credit unions offer the opportunity to expand their impact and better inform the public about the credit union movement.
Of course, not all partnerships are suitable. We believe that two factors should be at the heart of the process: cultural alignment and listening. Credit unions must have a strong marriage of shared cultures and values, so that they work collectively towards their common goals. Ultimately, these relationships are built by human beings coming together because they want to improve impact for their members, their teams and their communities.
Likewise, any merger strategy must begin with listening in order to create more value. Each market has its own dynamic and its own culture. Gathering direct feedback from members of the local community and honoring the talent of the credit union teams who know their members best is crucial. Only then will the partnership be able to offer an enhanced and tailored experience to best meet the needs of each respective community. This is particularly essential to ensure that small credit unions, and therefore members in what may be rural and less-served markets, will receive the financial services and community leadership they need most.
We firmly believe that the right partnerships, when made with intention and care, can create a stronger momentum behind the credit union movement. Strategic relationships can help increase the collective impact of each organization and create more value for members, teams and communities. Most importantly, these collaborations can be achieved with a transformational people-centered approach.
A rising tide lifts all the boats. As long as credit unions have no more than 10% market share, we will be more collaborators than competitors. Aligning with credit unions and supporting them with common values ​​and goals gives us the opportunity to expand our impact. We want to be part of the change that is helping the industry as a whole grow. We want to continue to build on the legacy on which credit unions have been built. We want the industry to prosper.
The best is yet to come,
Kristi Porter, President / CEO, Western Rockies Federal Credit Union ($ 150 million, Grand Junction, Colorado)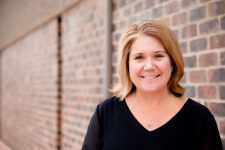 Todd Marksberry, President / CEO, Canvas Credit Union ($ 3.47 billion, Lone Tree, Colorado)