There was a wide range of new products on display at the 2022 Summer Fancy Food Show, with many brands embracing globally inspired flavors and plant-based iterations of traditional meat products. Check out the roundup below for a selection of notable new products spotted at the show this week.
Crepini
Crepini has added four new SKUs to its line of zero net carb egg wraps, including a plant-based eggless version, Egg White, Omelet, and Egg White Omelet. The plant-based variety was created in collaboration with JUST Egg and packs 5 grams of protein with just 60 calories per wrap. The full line of Crepini products is available at over 6,000 retailers nationwide.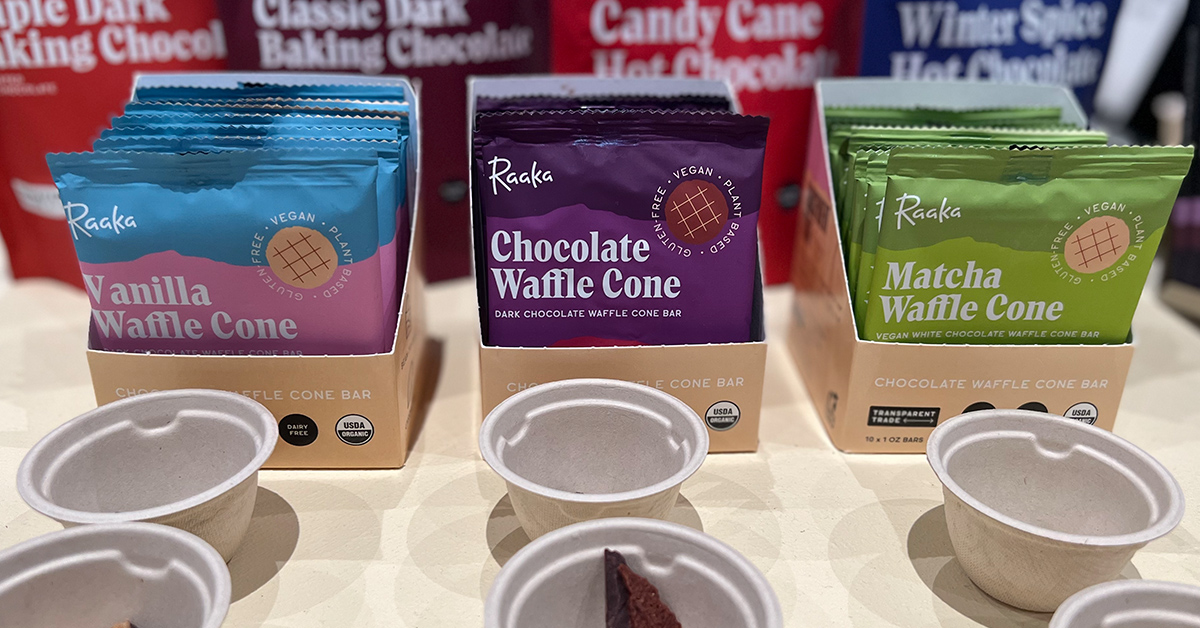 Raaka
New York chocolatier Raaka has unveiled a new range of Waffle Cone Squares. Available in three varieties – Matcha, Chocolate and Vanilla, the gluten-free, dairy-free and vegan range is available online for $38 per box of 10.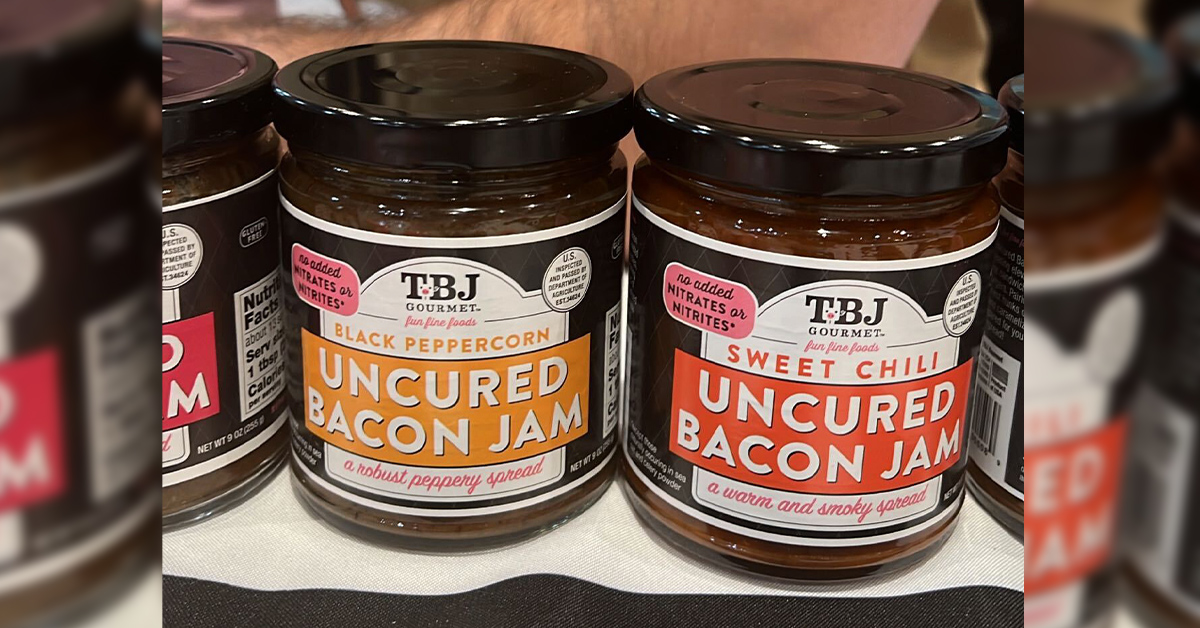 TBJ Gourmet
Globally inspired spread and condiment maker TBJ Gourmet launched four new upcycled products at the show this week, Deep South Tomato Jam, Moroccan Spiced Tomato Jam, Balsamic Onion Marmalade and Apple Onion Marmalade. Founded in 2013, the recycled food brand focuses on eliminating food waste by taking surplus agricultural produce, such as onions and tomatoes, and recycling them. TBJ's products are available at select Pennsylvania Walmart stores.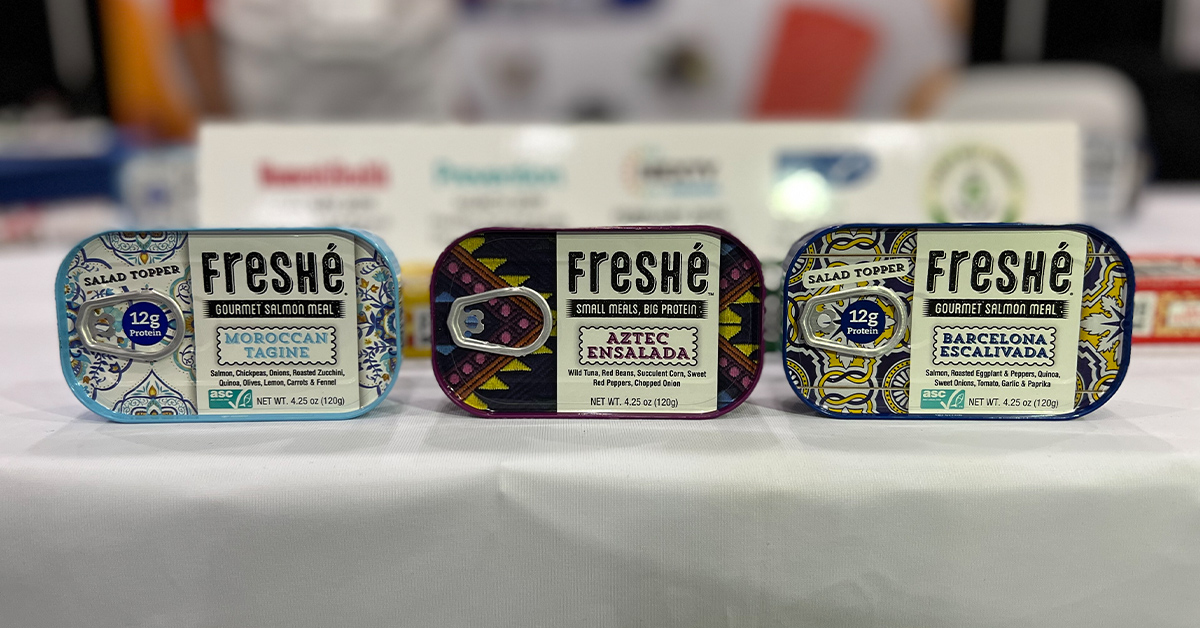 Freshed
Freshé has added two new SKUs – Moroccan salmon tagine and Barcelona escalivada salmon – to its line of canned fish dishes. Ready-to-heat recipes contain vegetables, legumes and olive oil. Each portable meal pack contains between 11-14 grams of protein per 4.25 oz. tin, depending on the variety. The brand's full line of tin dishes is available online for $39.99 per pack of 10.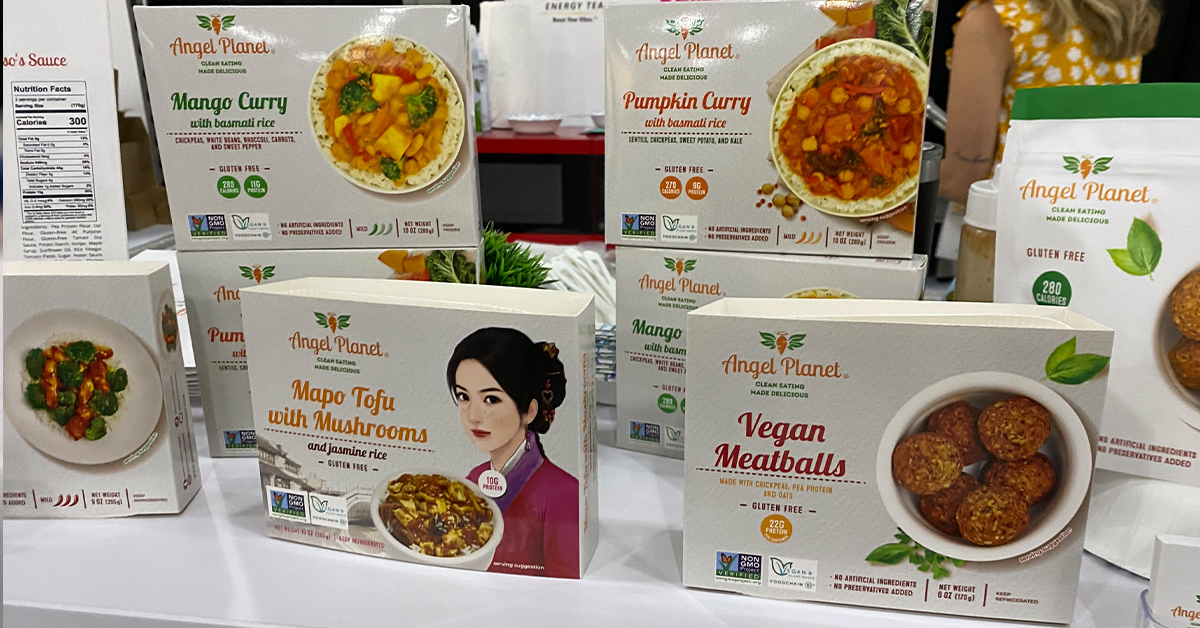 Angel Planet
Frozen meal maker Angel Planet has debuted a new line of soy- and gluten-free products, including plant-based meatballs, plant-based chicken, mango curry, pumpkin curry and mapo tofu with mushrooms. The vegan meatballs are made with a mixture of chickpeas, mushrooms and vegetables while the mango curry includes a mixture of chickpeas, white beans and coconut and the pumpkin curry combines lentils, chickpea sweet potatoes and coconut milk. Mapo Tofu is a plant-based iteration of a popular Chinese dish with organic mushrooms and pea protein in place of pork. The full range of Angel Planet products is available for purchase online.
daily crunch
Daily Crunch has expanded its line of crunchy sprouted nut snacks with Cinnamon Java Sprouted Nut Medley and Nashville Hot Sprouted Almonds varieties. The former contains dried currants, cashew flakes, and coffee-infused almonds, while the latter includes cayenne pepper, smoked paprika, and chili powder. The new flavors join the brand's Original, Cherry Berry, Golden Goodness and Cacao + Sea Salt range. Daily Crunch's Sprouted Nut Snacks are available nationwide for a suggested retail price of $7.99 per 5 oz. packet and $2.99 ​​per 1.5 oz. package.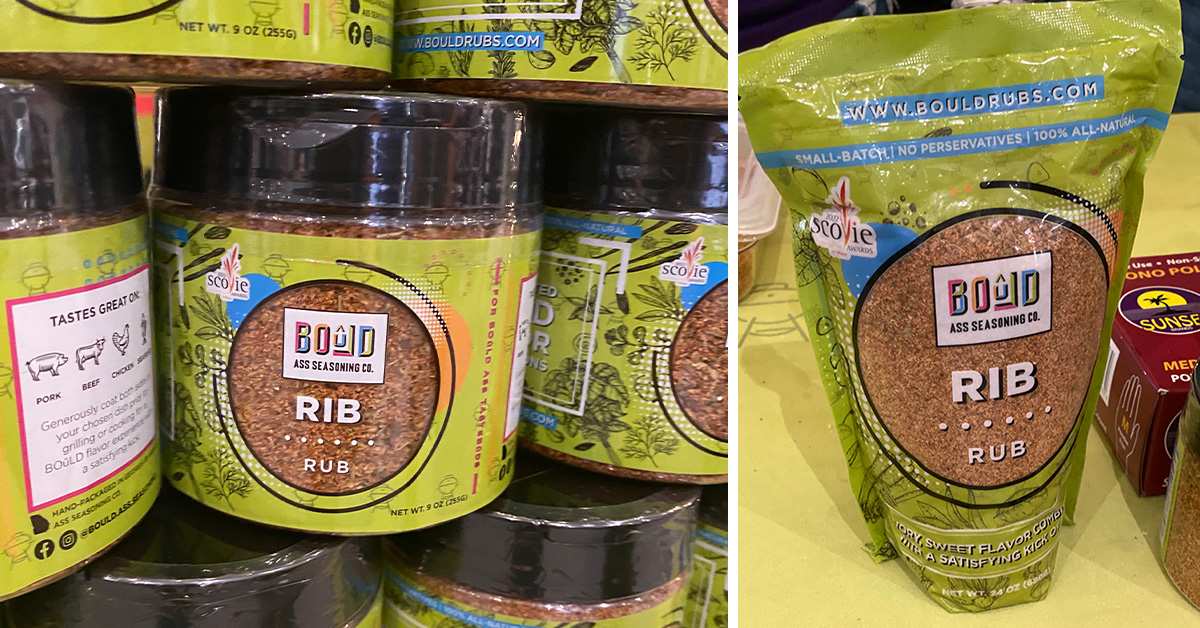 Bould Ass Seasoning Co.
Newcomer to the spice category Bould Ass Seasoning Co. has launched its very first product, Bould Ass Rib Rub. The versatile rub blends sweet and savory flavors, delivering a "satisfying kick," according to a brand spokesperson. The low-sodium, small-batch product is available direct-to-consumer for $14.99 per 9 oz. jar.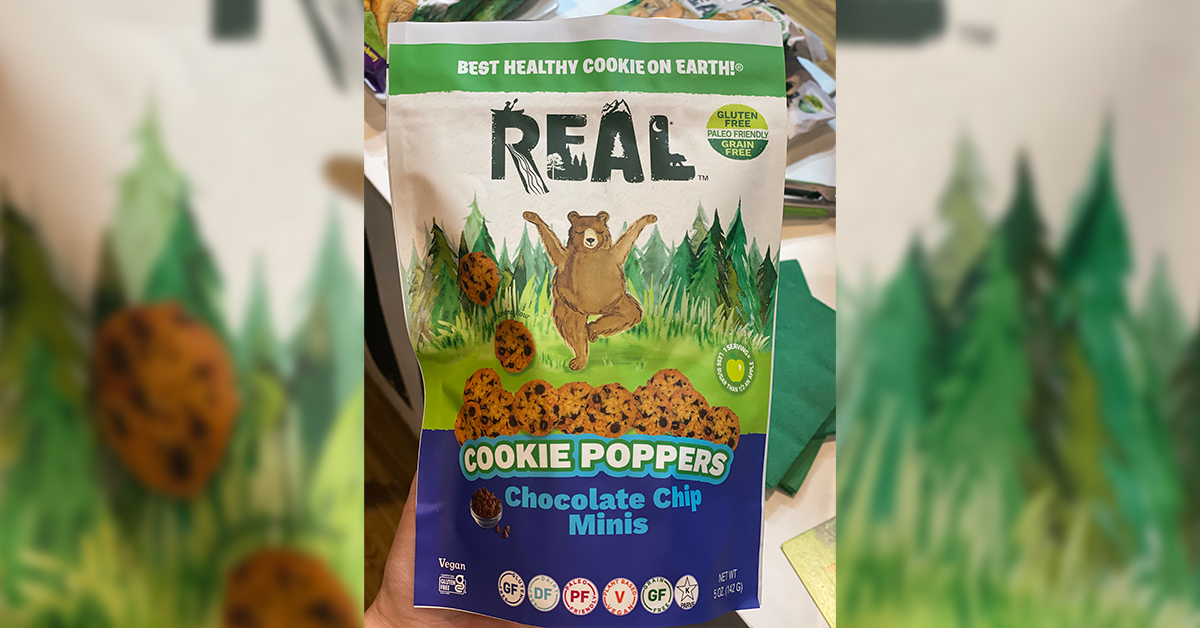 REAL Cookie
Best-for-you cookie maker REAL Cookie has introduced a new Cookie Popper format to its line. The snack candy offers consumers a miniature version of the brand's classic chocolate chip cookie. Like the rest of the REAL Cookie line, Cookie Poppers are a gluten-free and dairy-free plant-based product made from coconut flour. REAL Cookie Cookie Poppers will be released later this year.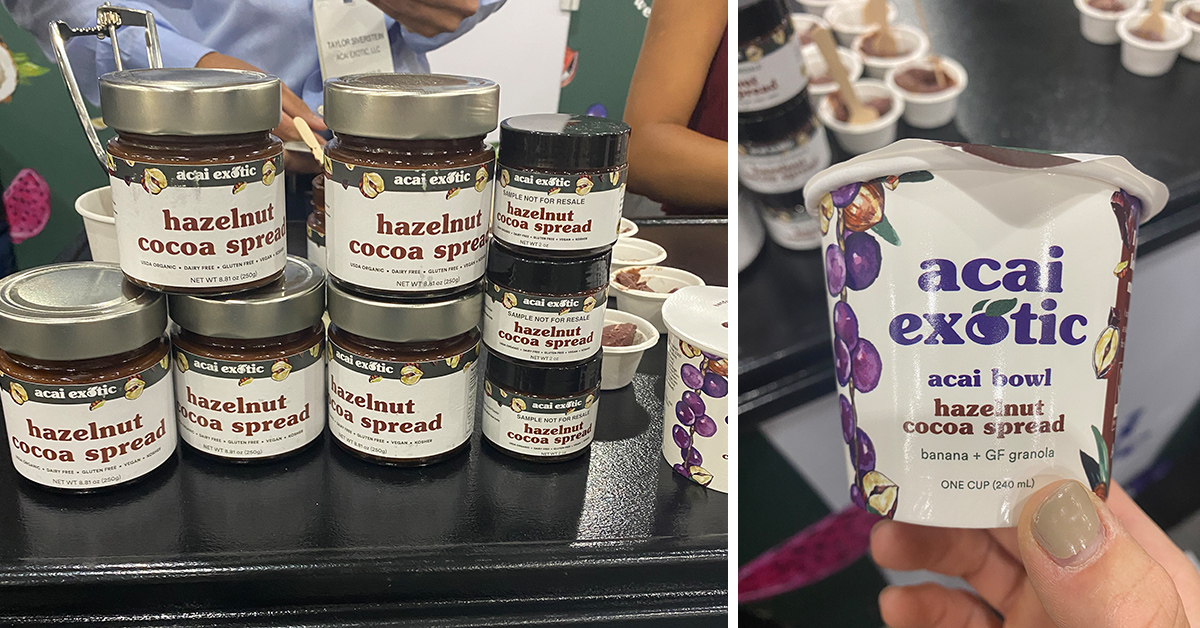 Exotic Acai
Florida-based Acai Exotic has put its own spin on the popular Nutella Bowl with its new Chocolate Hazelnut Spread Bowl. The cups contain palm oil and the brand's dairy-free chocolate hazelnut spread and, according to the brand, contain five times as many hazelnuts as Nutella and one-third the amount of sugar. Acai Exotic Hazelnut Chocolate Spread Acai Bowl will launch online for $5.99 per 240ml cup.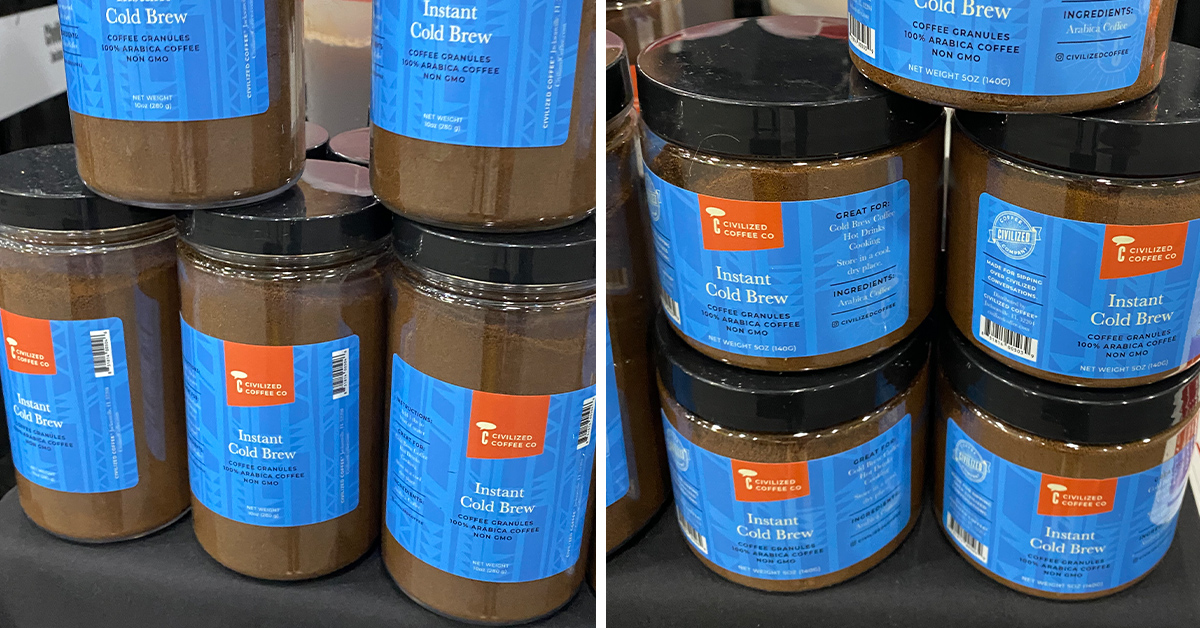 Civilized Coffee Co.
Civilized Coffee Co., focused on e-commerce, has added Instant Cold Brew coffee granules to its line of specialty coffee products. According to the brand's website, Instant Cold Brew is made with 100% Arabica coffee beans that have been cold-extracted and spray-dried into easy-to-dissolve granules. The new deal is available for $12.95 per 5 oz. jar.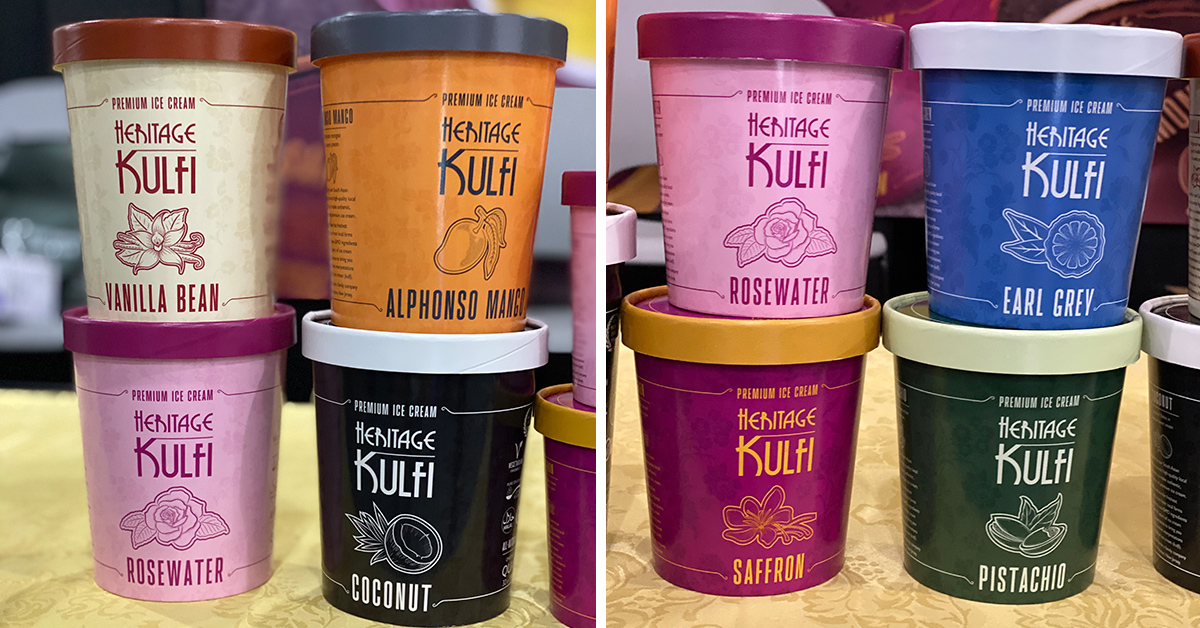 Heritage Kulfi
New Heritage brand Kulfi introduced its range of premium South Asian-inspired ice creams, including Vanilla Bean, Rosewater, Coconut, Alphonso Mango, Saffro, Pistachio, Cardamom Chai and Earl Grey. The ice cream is made from a blend of fresh milk and cream from local farms and non-GMO ingredients like pistachios and Alphonso mangoes. The New Jersey-based brand recently landed its pints at Woo-Ri Mart stores in the Princeton area.