There seems to be a common misconception surrounding the acquisition of data center REIT CoreSite with respect to its purpose for the US tower business model. This purchase was not intended to be a horizontal expansion of the company trying to diversify. its revenue streams, it had to be vertically integrated. The evolution of communication and technology has merged two industries that are just beginning. I'm investigating an even bigger expansion of American Tower Corp's (NYSE: AMT) vertical integration with a hypothetical acquisition.
American Tower Operations
Traditionally, AMT has operated as a cell tower provider collecting rents from large telecommunications carriers for access to their towers. Having become the largest owner of cell towers on the planet, AMT has recently expanded its operational activities. Under the radar they had already started build state-of-the-art on-site data centers directly under cell towers owned prior to the major CoreSite acquisition announcement. The forward-looking management team realized that data centers and cell towers were rapidly merging due to the rise of 5G and the Internet of Things. The ability to reduce latency and the need to process data in macro-tower locations is important as we move into a world dominated by cloud and edge computing. Depicted in the images below, we can see the process flow for data communication in the new world.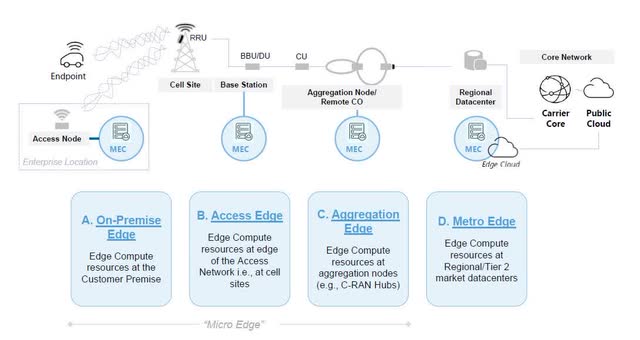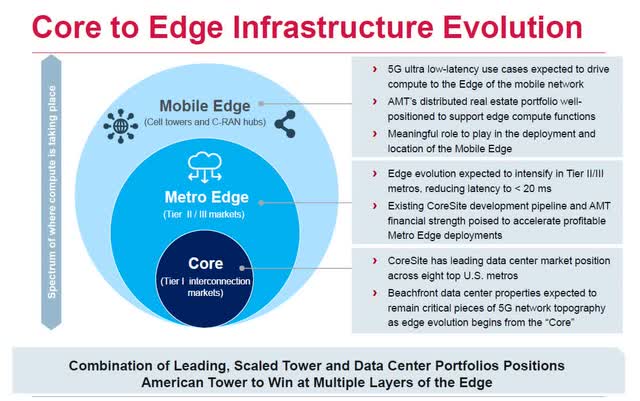 As you can see, AMT has expanded its footprint beyond just providing an access point for data retrieval and communication. They have now taken ownership of the data terminals for storage and processing. By owning a small but expanding portfolio of edge access points at tower sites, it is possible to achieve the most optimal speeds for edge computing functions that are critical not only to efficiency but also to security of systems that rely on this data, such as vehicles and manufacturing operations. With the purchase of CoreSite, AMT has taken a massive footprint in large primary data centers where data is stored and connects to other data centers through the cloud. American Tower has succeeded in implementing a business model that controls the acquisition, processing, storage and distribution of data. The synergies associated with cutting out the middleman are substantial and I believe they are already beginning to take shape, as evidenced by the recent beating and increased earnings announcement.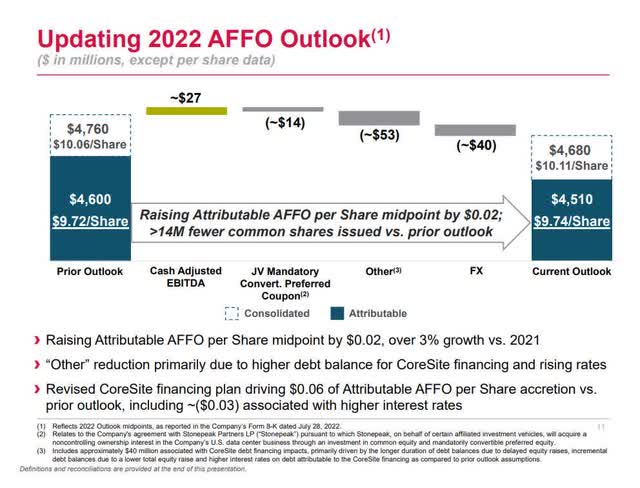 A noticeable increase in NOI on day 1 per new tower and increase in AFFO tips are not coincidences with the purchase of CoreSite, they are products of it. The synergies from the acquisition seem to be materializing faster than expected, a trend I think we will continue to see.
Dividend policy
AMT has my favorite dividend policy available in the market, quarterly dividend growth. Like clockwork, every quarter, AMT increases the quarterly dividend payout at an equivalent CAGR of 18%+ over the past 5 years. Combined with a respectable return of 2.1%, shareholders have enjoyed a substantial return to value over the years. To add the icing on the cake, management confirmed its target of 12.5% ​​CAGR in the dividend in the near future.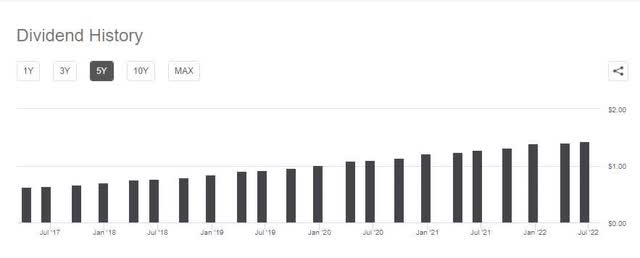 Growth during the 4G development cycle
One indicator we can look to to determine growth over the 5G development cycle is to look at the performance observed over the baseline 4G development cycle from 2010 to 2013. Over this period, AMT saw net profit growth of 124%, double the growth of the 62% increase in net profit from 2016 to 2019 before 5G rollouts began. Due to schedule delays attributed to the Covid-19 pandemic, 5G base building hasn't really picked up speed until early to mid-2021, so I think there's still a lot of accelerated growth in the 5G cycle.
Hypothetical acquisition
With my experience building edge data centers and integrating next-generation technologies such as 5G and IoT, I can clearly see the growth opportunity for American Tower. However, to fully complete the integration of the data flow process under one roof, one major element is missing. This major component is the flow of Internet and data traffic through fiber. It is an essential component for the rapid transfer of data between customer points of use, storage facilities and advanced data centers. An interesting acquisition target for AMT would be Cogent Communications (CCOI), an independent service provider for high-speed Internet communications and data storage that operates a "toll booth" for a significant portion of global Internet traffic. As illustrated below, CCOI controls around 20% of the world's data traffic over more than 160,000 kilometers of optical fiber spanning 50 countries.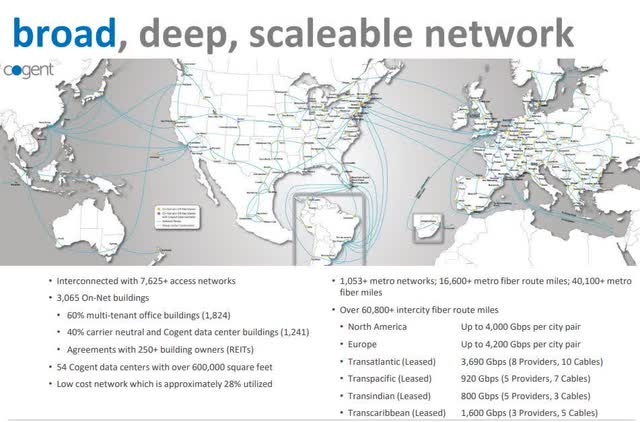 They provide on-ramp services to the cloud as well as off-ramp services across 1,241 different data center locations. Only 54 of those locations are owned by Cogent, so I'm willing to bet a lot of the data centers CCOI pays to access are owned by American Tower/CoreSite. The compelling aspect of this acquisition centers on the synergies and expansion of CCOI in this hypothetical purchase. A significant portion of the costs associated with Cogent's operations are new customer acquisition costs that would be significantly reduced if integrated into AMT's operations. Nearly half of CCOI's revenue comes from data centers and AMT now has plenty of that, allowing Cogent's revenue to grow rapidly and customer acquisition costs to drop rapidly by becoming the preferred data center vendor. data belonging to AMT. Second, Cogent's revenue comes largely from the United States, while AMT derives the majority of its revenue from overseas, presenting a great opportunity for expansion.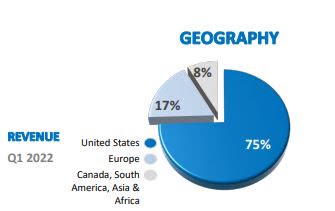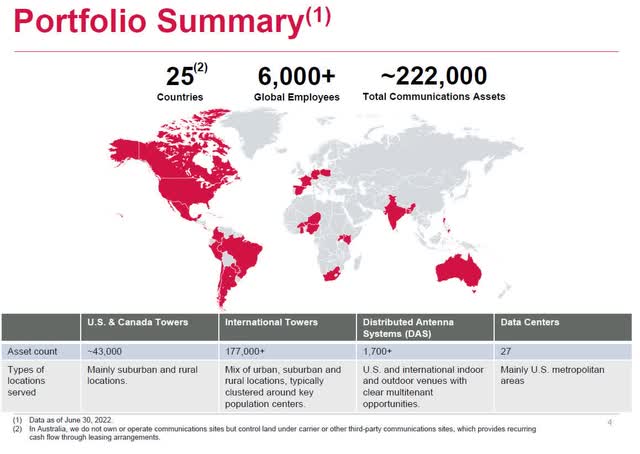 Even better, the purchase of Cogent would not affect its REIT ranking. This is due to two factors, the revenue generated by CCOI would not come close to 25% of the company's total revenue, and secondly, even if CCOI's operations expanded significantly, such revenue could still be reported as payments rent from real estate. property based on an official declaration from the IRS.
Another benefit of this transaction would be access to cheaper debt. CCOI is currently indebted at an interest rate of 7%, a rate which would decrease considerably after its acquisition. If their 7% interest rate debt could be converted to a similar rate recently granted to AMT of 3.65%, the interest payment would drop by about $30 million in the first year. This would double earnings from continuing operations from $30 million to $60.5 million.
From an operating revenue perspective, CCOI would only add $114 million in revenue, or 3.4%, to AMT as a whole. However, as discussed earlier, several significant opportunities exist to expand CCOI margins.
Based on CCOI's current market capitalization of $3 billion and net debt of $1 billion, even with a 33% premium attached to the purchase price per share, buying Cogent would still represent less than half of $5 billion CoreSite purchase. To get an idea of ​​how these offerings would compare, I've compiled the table below.
| | | |
| --- | --- | --- |
| Metric | HEART | CCOI |
| Income on purchase | $655 million | $575 million |
| EBITDA on purchase | $343 million | $203 million |
| Purchase price | $10.1 billion | $5 billion |
| Multiple EV/EBITDA | 29.4x | 24.6x |
Based on a quick on-paper comparison, CCOI seems like a better deal than CoreSite. However, there are a multitude of factors to consider including debt financing expenses in the current environment. Anyway, I found this exercise interesting.
Summary
Some investors may have misunderstood the purpose of moving into the data center space. By expanding its operations, AMT has become the premier infrastructure investment for 5G and IoT technology. I am a long-term holder and expect to see healthy returns for years to come as the 5G build cycle accelerates and the possibility of additional accretive acquisitions. I'm a long-term investor, which means the current valuation doesn't need to be perfect for me to benefit from long-term capitalization. However, for those looking for faster returns, you might want to wait for a slight price decline, as the current P/AFFO valuations of 23.25 are essentially directly in line with the historical average.